MobilityWorks provides high quality indoor/outdoor stairlifts.  We have been a trusted leader in affordable mobility solutions for over 20 years.
Stair lifts can restore your independence and allow you to stay in the home you love. Having the highest quality stair lift installed in your home is an easy option with MobilityWorks. Our team of industry certified technicians are exports at installation, service and repair of residential stairlifts. Our stair lift solutions are customized to fit your existing staircase, indoor or outdoor, curved or straight rail.
Stairlifts help you navigate multiple levels of your home with ease. Our stairlifts offer sleek designs that blend in with your existing staircase, and premium safety and performance features including seatbelts, swivel seating, armrest controls, foldaway storage, and more.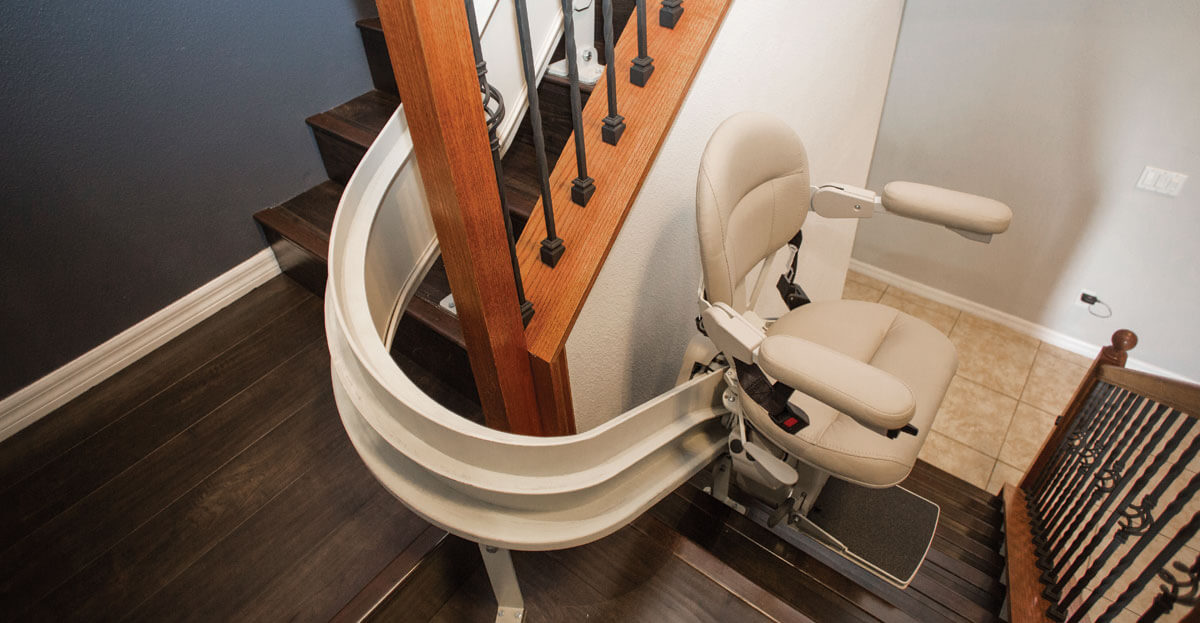 Professional Installation
Customized for Any Area of Your Home
High Quality, Affordable Solutions
Most Comprehensive Industry Warranty
Satisfaction Guaranteed
MobilityWorks@home offers a full range of stairlifts to meet the unique needs of your home.  Depending on the layout of your home and stairway you may need a basic straight stairlift, a curved stairlift and options like a folding rail to ensure the stairlift stays out of walking paths.  There are also various options you can add to enhance your experience using your stairlift.  Our certified consultants will meet with you and explain all your options.
Unlike our competitors, the MobilityWorks@home price ALWAYS includes:
Delivery to your home!
Installation in your home by certified technicians!
2-year limited warranty on parts!
1-year warranty on labor!
Straight Stair Lifts: A home with a straight staircase and no landing part way up is the easiest and most straightforward application. Depending on the number of stairs and the model of stair lift you opt for, the average price to purchase and install a standard straight lift is about $3,700.
Curved Stair Lifts: Curved stair lifts are the ideal option for homes with curved stairways or landings part way up. Curved stair lifts are custom built to perfectly fit your home. Because curved stairlifts are customized they can be more expensive with average prices around $10,000.
Outdoor Stair Lifts: Stair lifts for exterior decks, patios and docks are similar to an indoor version — but with weatherproof components. These stair lifts are designed and tested to withstand external elements including temperature extremes, wind, precipitation and marine environments. Outdoor stairlifts are available in straight and custom curve configurations. Naturally, because they are designed to withstand Mother Nature they are more expensive with a basic straight costing around $7,000 and curves costing $15,000 or more.
Bruno stairlifts are made in the USA and come with the industry leading Gold Warranty. All Bruno products are ISO 9001 Certified designed and manufactured, ensuring the highest quality workmanship is consistently built into every stairlift.
Bruno Elan Straight Rail Stairlifts
Designed for straight indoor staircases, the Elan offers a mix of high-quality standard functionality, unsurpassed reliability, and ease-of-use design. With Made-in-the-USA dependability, Bruno helps you stay in your home with comfort and ease.
Bruno Elite Straight Rail Stairlifts
A home chair lift that reflects the taste and sophistication of the most elegant homes, the Elite sets the new standard for residential accessibility. When you want the highest quality stairlift combined with a stylized appearance, you want the Bruno Elite.
Bruno Outdoor Elite Straight Rail Stairlifts
Every custom Elite curved stairlift is crafted to the exact specifications of each customer's stairway. Elite curved stairlifts from MobilityWorks provides access while adding to any home's character.
Bruno Elite Curve Rail Stairlifts
The Outdoor Elite is specifically designed for exterior use, providing you with the same quality, comfort and convenience available in Bruno's complete line of straight rail and curved rail stairlifts. The durable, powder coat outdoor paint protects all steel surfaces.
| Model | The Elan | The Elite | The Elite Curve | The Outdoor Elite |
| --- | --- | --- | --- | --- |
| Key Feature | Rail designed to fit in tighter spaces | Premium stylized seat for maximum comfort | Customized for your exact stairway | Tested in extreme weather |
| Rail Type | Straight | Straight | Curved | Straight |
| Weight Capacity | 300 lbs. | 400 lbs. | 400 lbs. | 400 lbs. |
| Upholstery Options | Vinyl or burgundy leather | Vinyl or burgundy leather | Vinyl or burgundy leather | Marine-grade vinyl |
| Seat Color Options | Tan, brown, maroon, charcoal, olive, burgandy (leather) | Tan, brown, maroon, charcoal, olive, burgandy (leather) | Tan, brown, maroon, charcoal, olive, burgandy (leather) | Beige |
| Rail Color Options | Silver or champagne | Silver or champagne | Silver or champagne | Silver |
| | View Product Details | View Product Details | View Product Details | View Product Details |
Sleek Rail Design
Rails install close to the wall and blend in seamlessly with your existing staircase.
Safety Seat Belts
Ensure your safety while riding your stairlift with seat belts.
Armrest Controls
Easily operate your stairlift from accessible armrest controls.
Continuous Charge Strips
Your stairlift will charge wherever it rests with continuous charge strips.
Swivel Seats
Swivel seating makes it easy to get in and out of your stairlift at the top and bottom.
Folding Seats & Footrest
Foldaway seats & footrests keep your stairlift out of the way when not in use.
Frequently Asked Questions
Depending on the number of stairs and the model of stair lift you opt for, the average price to purchase and install a standard straight lift is about $3,700.  Stairlift installations typically range from $3,700 to $20,000. Total cost depends on several factors, such as indoor vs. outdoor, curved vs. straight, and the height of your staircase. Mobility Works will provide a free in-home consultation where a more precise cost estimate can be provided. We also provide financing options so you can pay for your lift in monthly installments.
Original Medicare typically does not cover stair lifts, but Medicare Advantage plans may potentially cover the cost. Typically, health insurance policies do not cover the cost of stair lifts.
No.  We can customize a solution for any stair length and configuration.
If your stairs meet building codes, we will be able to provide a solution.  A too narrow stairway is extremely rare. 
Yes, depending on the specific area, a curved stair lift is likely the best solution.  The use of two individual straight lifts can also be an option.
We offer stairlifts with weight capacities up to 400lbs.
This stairlift cost guide breaks down the different elements that go into stairlift pricing and provides easy financing solutions to make the process as smooth as possible.
Routine maintenance by a technician will help catch potential future issues with your stairlift and ensure the lift is functioning correctly, but in between inspections, there are proactive things you can do to keep your stairlift in good condition.
Purchasing a stairlift for your home is no small feat. Between varying styles and measurements, the details can quickly become overwhelming. Luckily, our Home Access team is trained and ready to offer a customized solution right for your needs.
Gain peace of mind with the most comprehensive manufacturer warranty in the stairlift industry. Bruno stairlift products offer:
Limited Lifetime Warranty on Elan and Elite straight models
5-Year Limited Warranty on Elite curved and outdoor models
One Year Limited Warranty on Labor