Ceiling Lifts and Patient Lifts
MobilityWorks has been a trusted leader in affordable mobility solutions for over 20 years.
Stay in the home you love, and let Mobility Works provide you with the highest quality patient lifts for your accessibility needs. We sell, install, and service top of the line home accessibility products from Prism. Our technicians are industry certified, and all our work comes with 100% satisfaction guarantee. Our lifts are built to the highest quality standards, and come with a comprehensive manufacturer warranty. With MobilityWorks' long standing reputation, you can be certain that you are getting the best product and value.
Patient lifts and ceiling lifts are designed to make life easier for patients and caregivers alike. Give yourself the extra lift you need for transferring your patient to-and-from their bed, bath, and more. Choose between free-standing or ceiling-mounted lifts based on your individual needs.  Operation of these lifts is user-friendly and easy to learn, making them applicable for home or commercial use. Simply attach the sling and operate the controller to complete your transfers. Not only are they easy to use, but patient lifts are proven to reduce injuries in caregiving settings.
Call us or request a quote today to speak with one of our mobility consultants to find the perfect patient lift model that is right for your home and needs.
Free-Standing Patient Lifts (Hoyer Lifts)
Often referred to as hoyer lifts, free-standing patient lifts offer superior mobility of your system, allowing the lift to be transported throughout the room or building.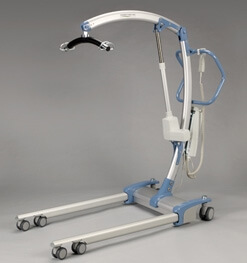 Prism Medical F-600 Floor Lift
The Prism Medical F-600 is a battery-powered electric hoyer lift used by health care professionals to transfer patients. This hoyer lift makes it possible to move mobility impaired individuals with minimal strain or risk to the caregiver, while providing complete safety, dignity and comfort for the client. The F-600 floor lift is one of two components that make up this technology.
Fixed Ceiling Lifts
Fixed ceiling lifts feature a track that's mounted along your existing ceiling structure, saving floor space. Once installed, these lifts provide an out-of-the-way solution for patient transfers.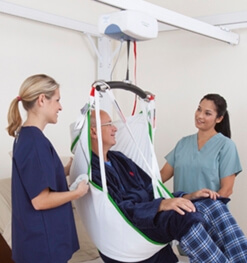 Prism Medical C-450 Fixed Patient Lift
Delivering innovation, reliability, along with superior comfort and safety, the C-450 addresses many of the issues that make patient transfer complex or difficult. The C-450 from MobilityWorks has been designed with a full set of standard features that can be safely and easily operated by a single caregiver. Built for a quiet operation, the C-450 provides a smooth and effortless transfer that will safely enhance the working conditions of patients/residents and caregivers.
Prism Medical Pressure Fit FST Lift Systems
The Pressure Fit System is the newest in temporary ceiling lift solutions (and perfect for rental solutions). Providing the same benefits of a standard ceiling lift, but without the requirement for structure attachment. Its accommodating weight capacity of 440 lb. can handle many unique transfer needs while providing the utmost in safety for both, the patient/resident and the caregiver.
Portable Ceiling Lifts
Portable ceiling lifts feature a free-standing track system for temporary solutions or situations where the lift will be used in multiple locations.
Prism Medical P-440 Portable Patient Lifts
Unique and innovative, the stylish P-440 from MobilityWorks stretches the boundaries of portable patient ceiling lifts. The advantages that stem from using a ceiling lift are undeniable and have dramatically reduced the amount of injuries resulting from the handling of patients/residents in both institutional and home care settings. The P-440 has been designed with a full set of standard features that can be safely operated by a single caregiver.
Prism Medical FST-300 System
Perfect for residential or institutional use, this strong and portable patient lift from MobilityWorks is the most affordable Free Standing Track system available. Weighing just 45 lbs. with no component weighing more than 17 lbs., the FST-300's lightweight frame allows for easy assembly.
Request a Free Home Assessment Today
Improved, safe mobility in the the home you love is closer than you think. Contact the certified experts on our team to learn more about our free home assessments.
Warranty & Guarantees
Gain peace of mind with the most comprehensive manufacturer warranty in the patient lift industry:
Handicare 12 month parts from date of installation or 18 months from manufacture date, whichever is shorter. (see details)
MobilityWorks 30 day warranty on labor
Financing
MobilityWorks has partnered with leading lenders to provide our customers with flexible payment options best suited for you. Learn about our financing options.
Lift Installation
Your lift will always be installed by factory certified MobilityWorks@home technicians and include a limited lifetime warranty on parts and a one year warranty on labor so you can rest assured that your lift will be installed the right way.