Why Choose MobilityWorks?
MobilityWorks has been an expert in the mobility industry for over 20 years, and we are now proud to offer home access solutions for wheelchair and scooter users. Our mobility experts install and service wheelchair ramps right in your home. We sell a variety of scooter ramps that look good and provide easy and safe access. Stay in the home you love, and contact MobilityWorks provide you with the best solution to fit your needs!
Learn more about which type of wheelchair ramp is right for your house with our free Wheelchair Ramp Buyer's Guide!
Types of Wheelchair Ramps
Modular Ramps are configured for a specific space. They include pre-assembled ramps, handrails and platforms which are assembled wherever you need them. These ramps are suitable for installations ranging 12 to 60 inches in height, and will be installed professionally by MobilityWorks experts.
Configure a ramp system for almost any site
Handrails improves grip and ensures superior appearance
Ramps and platforms made of lightweight aluminum
Ramps, handrails, and platforms are pre-assembled
All components feature captured fasteners
No anchoring into concrete footings or pads is required
Architecturally designed for a clean, modern appearance
Extruded skid resistant surface
Low maintenance
Integrated independently adjustable supports
36" width
1,000 pound weight capacity
Optional anchoring where Code required, typically coastal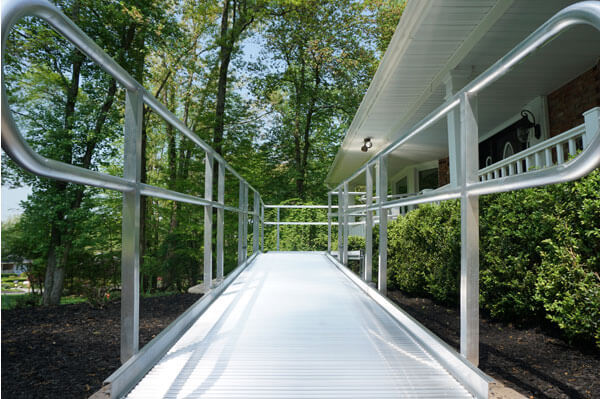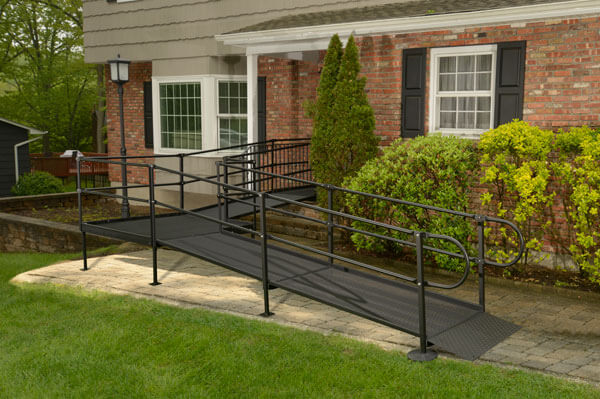 Durable Metal Wheelchair Ramps
Composed of Aluminum or Steel, metal ramps have many advantages including cost. Aluminum ramps have a built-in anti-slip surface, do not rust, warp, or get hot, nor require maintenance or painting, and can be moved if needed. The manufacturer insures no rusting up to 3 years on the powder coated steel ramps. Sides are finished and flush, with no hazardous nuts or bolts protruding onto the usable ramp area.
Contact us and we will be glad to send a Mobility Consultant out to evaluate your needs and provide metal or aluminum options to help you choose the ramp that is right for you.
Request a Free Home Assessment Today
Improved, safe mobility in the the home you love is closer than you think. Contact the certified experts on our team to learn more about our free home assessments.
How much ramp do you need?
The calculation below is a good tool to determine how much ramp you may need. Many times the height (rise) needed to get into one's home is so great a ramp may not be a good choice. Reach out and MobilityWorks will assist you in determining the RIGHT solution for you and your family.
Measure the height of the stairs you need to go up vertically.
A good rule of thumb is 1-inch equals 1 foot of ramp (ADA). 42" equal 42 foot of ramp.
Wheelchair Ramps vs. Platform Lifts
A major question we are often asked is "Should I purchase a ramp or a lift?". The decision can be based on a few key differences:
Ramps are most effective for scooters and power wheelchairs, because they require some effort to navigate. Platform Lifts are useful for all users including manual wheelchairs, because the lift machinery does the work for you.
Ramps are more effective for lower rises of 6 feet or less, because the ramp needs ample runway to elevate the user (about 1 foot of length per 1 inch of rise). Lifts, on the other hand, can accommodate larger heights of up to 14 feet.
Ramps are more cost effective in lower height installations, while platform lifts may become more cost effective around 3 feet or more.
If you're unsure which option is right for you, contact a MobilityWorks expert that can help inform your decision.
Warranty & Guarantees
Gain peace of mind with the most comprehensive manufacturer warranty in the modular ramp industry.
The Breeze and Liberty models are made out of aluminum and have a limited lifetime warranty. (see details)
The Triumph model is made out of steel and has a limited 3-year warranty (see details)
Financing
MobilityWorks has partnered with leading lenders to provide our customers with flexible payment options best suited for you. Learn about our financing options.
Ramp Installation
Your wheelchair ramp will always be installed by factory certified MobilityWorks@home technicians and include a limited lifetime warranty on parts and a one year warranty on labor so you can rest assured that your ramp will be installed the right way.