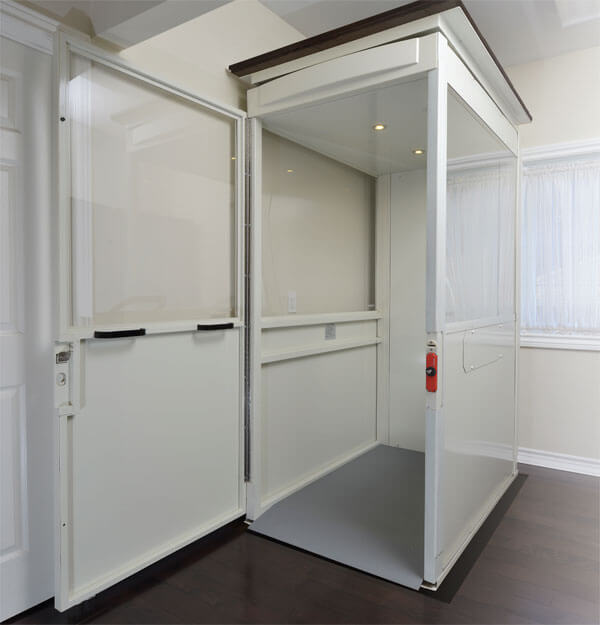 The Savaria Telecab17 maximizes living space while saving on installation costs. The primary advantage of this two stop Telecab is the fact that it does not require a lift well.
The Savaria Telecab17 is sometimes called the "vanishing elevator" because it can be sent up or down after the user is finished with it. It then disappears into the floor or ceiling, which leaves extra usable space on the home's interior. Available in two standard sizes – both with a capacity of 845 lb – the lift can typically handle multiple passengers as well as heavier mobility equipment.
The Savaria Telecab17 is well suited for the physically handicapped, as it has many safety options like an emergency battery-lowering device and an in-cab telephone. Continuous pressure push buttons ensure a safe, stable, and smooth ride.
Contact Us For an In-Home Evaluation
Savaria Telecab17 Features
Innovative Design: All-in-one drive tower and enclosed cab means no hoistway is needed and unit travels through a floor cut-out.
No Hoistway or Pit Required: Minimal construction makes the Telecab easy and fast to install
Modern, Neutral-Toned Design: The unit blends into your home decor.
Reliable, Enclosed Drive System: Dependable and safe operation in your home.
Other Standard Features: Continuous pressure buttons to operate the unit, telephone, two interior ceiling lights, two-stops, cab size - 30" x 46", 78" tall (76.2 cm x 116.8 cm, 198.1 cm tall).
Two standard cab sizes to choose from, both with a capacity of 845 lb: 30" x 46", or 36" x 54"
Standard Finish Options: White powder coat paint, acrylic window panels in choice of clear or bronze, vacuum-formed ABS plastic trim and mouldings.
Safety Features: Emergency stop and alarm buttons, battery lowering in case of power failure, telephone, non-skid platform, under-panel sensor to stop the unit if it detects an obstruction, pressure relief valve to prevent platform overload, electro-mechanical door lock and open door sensor, slack chain safety device.
Warranty: 36 months part.